The Matthew McConaughey hair transplant rumours have been flying around tinseltown for some time now. His hair loss pattern was fairly typical of common male pattern baldness, where hair recedes above the temples on either side of the head, leaving hair in the centre of the scalp. This pattern is often accompanied by balding at the crown. Most men who experience hair loss do so in this pattern, so the balding Matthew McConaughey has seen is certainly not unique.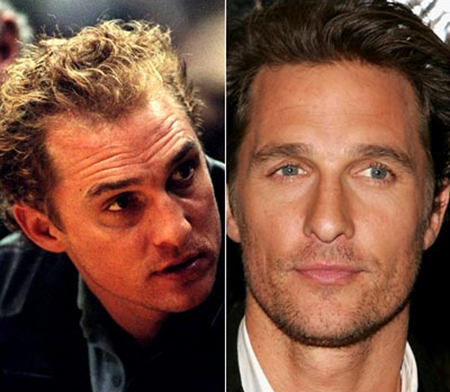 Somehow, Matthew McConaughey has regrown his hair, and recovered hair in areas where it had been receding. Look how thick his hair is now, without even a hint of recession. So how did McConaughey do it?
Matthew McConoughey's most likely hair loss solution
The look that Matthew McConoughey has achieved certainly looks very natural. It is very likely however, that Matthew has benefitted from the skills of a particularly good hair transplant surgeon.
It is also probable that other solutions have been used too, most likely Finasteride (found in Propecia) and Minoxidil (found in Rogaine and Provillus). That said, many celebrities prefer to adopt natural hair loss treatment options, generally supplement based such as Advecia, often containing ingredients such as Saw Palmetto or other vitamins for hair loss such as vitamin B6.
There may be some truth behind the Matthew McConoughey hair transplant rumours, however it is highly likely that other hair loss remedies were also used to create the look he now enjoys.
Matthew McConaughey was born in Uvalde, Texas in the United States of America, but grew up in Longview, Texas where he graduated from the local High School in 1988. Showing little interest in his father's oil business which his two brothers later joined, Matthew McConoughey embarked upon an acting career in 1991, and the rest as they say, is history.